Last week I was lying in the shade on the deck, gazing up at the summer clouds floating in a vivid blue sky. A bird soared across my line of sight, riding the air currents. Perhaps a similar view had inspired young Gertrude de la Vergne, more than a hundred years ago.
Gertrude was born in New York, but was essentially raised on Glenbow's Millionaire Hill. She was one of Alberta's jet set and although her family arrived in Alberta in 1909, after ranching was already well-established in the province, she was a pioneer in her own right.
When Gertrude was three years old, her father, Chester, purchased a Glenbow horse ranch, where the family spent most of the next decade. Their family and friends built their own mansions on the nearby uplands, inspiring the area's nickname. Polo, horse racing, and house parties filled their social calendar. In the winter, they returned to the circle of New York's high society.
Gertrude enjoyed her childhood on the ranch, but when she was thirteen, her father's business interests changed and the family moved into Calgary. Gertrude excelled at school. She was also good at practical skills, and when she was fifteen she won school awards for her baked and canned goods.
As a young woman from an elite family, she made the rounds of dances and tea parties, and joined drama societies and clubs. The newspaper social pages chronicled her activities, along with those of her peers. Besides the usual outings to Banff, a more exotic trip was noted: she and her mother spent New Year's 1927 in Fez, Morocco and "[motored] through Northern Africa … to … Algiers," eventually returning through France to New York and then Calgary.
Perhaps this adventure fuelled Gertrude's desire for excitement and travel. When the Calgary Aero Club was formed, she became an active member. Then, on 7 November 1928, hundreds of people gathered at Calgary's aerodrome to see something new — a "Lady Pilot"! They witnessed Gertrude's initial solo flight, which she performed after 14 hours of assisted flight time. She flew the Aero Club's de Havilland Moth, a biplane. She said afterwards, "When I got up in the air I thought I was dreaming."
At the age of 22, Gertrude had become the first female pilot in Alberta, and the third in all of Canada. Two weeks later, on the Federal Government's exam for a private pilot's license, she achieved the highest grade, surpassing the other eight candidates (all men). She officially became Alberta's first licensed female pilot when she received her paperwork on 4 December 1928.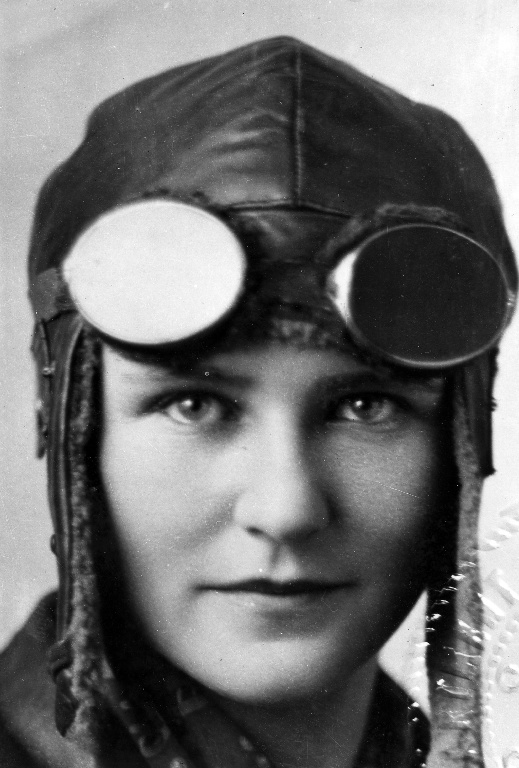 Gertrude went on to perform stunts at air shows, such as bursting special balloons with her propeller and changing clothes mid-flight. On the more serious side, she was the first editor and publication manager for the club's magazine, and the aviation columnist for the Calgary Herald. Her interest expanded to flying gliders and she also served as secretary-treasurer of the local glider club.
Unfortunately, Chester de la Vergne's businesses suffered in the economic crash of the 1930s, and Gertrude's dream of earning a commercial pilot's license went up in smoke.
In 1932, she married Reginald Tanner, with whom she had two children and five grandchildren. She lived to 91 years of age and fondly recounted stories of her youth on the grasslands of Glenbow Ranch and in the skies above Calgary.
This article was originally printed in THE BERGEN NEWS and is being reprinted with permission.