Summer brings a bounty of blooms and here in Bergen the wild roses brighten meadows and roadsides. One particular nursery rhyme about roses reminds me of a little girl born at Glenbow:
Little girl, little girl, where have you been?
Gathering roses to give to the queen.
Little girl, little girl, what gave she you?
She gave me a diamond as big as my shoe.
Constance Blytha Copeman Pearkes didn't exactly receive a giant diamond, but she did end up with a pretty posh house.
In 1900, William and Edith Copeman left their comfortable lives in England for the adventure of homesteading in Alberta. They purchased Waverley Ranch (in what is today Glenbow Ranch Provincial Park). Waverley grew as William acquired 500 cattle, plus work and range horses, and a few chickens and pigs.
The family also expanded, with the birth of John in 1900 and the exciting arrival of Blytha two years later. On that fateful March day, while William was fetching the doctor from Calgary, a blizzard blew in. The men lost the trail and arrived too late. Fortunately, Nurse Moodie (the subject of a previous article) assisted Edith and welcomed Blytha. Blytha spent the first four years of her life at Waverley, and perhaps her love of gardening was inspired by the wildflowers of her prairie home. A few years later another baby boy joined the family, but his fate was not so rosy. Poor little Humphry lived just one week and is the only known burial in the park. Shortly after his death, the Copemans sold Waverley and moved to British Columbia, where William became a real estate agent.
In 1914, the family booked passage on the Empress of Ireland to begin an extended stay in England. However, Edith decided they must visit New York en route and the tickets were changed — a fortunate decision, since the Empress never reached its destination. In dense fog, it collided with another ship near the mouth of the St. Lawrence River and sank in only 14 minutes; 1012 lives were lost in the largest peacetime maritime disaster in Canada.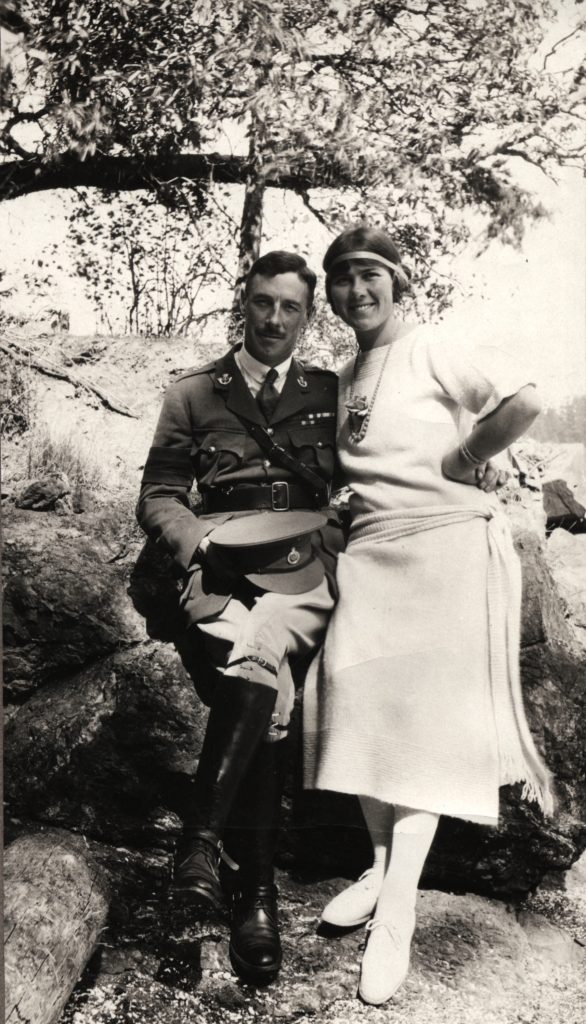 When Blytha grew up, she fell in love with a soldier, George Pearkes, who was visiting her home city of Victoria, B.C. He had fought bravely during WWI and among his awards was the Victoria Cross (VC), the Commonwealth's highest honour for valour. Nine days after George and Blytha met, they became engaged; George then returned to his military base in Winnipeg and for the next year he wrote a letter to Blytha every day. They married upon his return in 1925, and they eventually had two children. Life was not always a bed of roses, however: their little girl contracted an infection in infancy that resulted in her death at the tender age of seven.
As George's military career progressed, the family moved around Canada, and spent several periods in England. George and Blytha socialized with military and political personages, and at a reception for VC recipients, they met the Prince of Wales (who after his abdication became the Duke of Windsor). A few years later, they were invited to Clarence House (where today's Prince of Wales lives) and met the Duke of Connaught, and his daughter — Princess Patricia. Then, in 1937, as in the nursery rhyme, Blytha met the Queen; she was formally presented at court (sponsored by Mrs. Vincent Massey), and made her curtsey to the newly-crowned King George VI and Queen Elizabeth (later the Queen Mother). After the Pearkes family returned to Canada, Blytha's royal experiences came in handy: in preparation for the King and Queen's 1939 Canadian tour, she tutored the uninitiated and anxious military elite in curtsey protocol.
With the onset of WWII, the Pearkes family returned to England, where George was made Corps Commander of the Canadian divisions and rose to the rank of Major-General. Blytha's role as his wife required a great deal of entertaining, for high society and military cadets alike; and, although she often had hired-help in her home, she pitched in with the cooking when needed. In addition, she conducted assorted "war work," such as knitting clothes for soldiers and serving in military canteens. She was also a dedicated and determined mother, regularly cycling 22 miles to watch her son's school cricket matches. In 1942, George's reassignment to become head of the Pacific Command of the Canadian Army, brought the family back to Canada and, due to gasoline rationing, practical Blytha again cycled where she needed to go.
After the war, the Pearkes couple entered a new phase of life. George retired from the army and became a Conservative Member of Parliament, eventually serving as Minister of National Defence from 1957 to 1960.
Subsequently, George was appointed Lieutenant-Governor of British Columbia — the provincial viceroy (representative of the Crown). Therefore, Blytha officially became the viceroy's consort. For the next eight years, Blytha and George lived in Government House in Victoria, surrounded by beautiful gardens. While there, they welcomed many visitors, including the Queen Mother. The queen Blytha had gone to meet now became her houseguest.
In 1968, the University of Victoria awarded Constance Blytha Pearkes an Honorary Doctorate of Law for her public service. She was recognized for "achieving distinction" in two realms. Firstly, she had used her "abilities and powers of leadership" to serve a wide variety of causes concerned with helping the sick and those in need. Secondly, when designated chatelaine of Government House upon her husband's appointment as Lieutenant-Governor, she rose to the challenge, "[welcoming] with equal ease Canadians from all walks of life and visiting heads of state." In a time when women's accomplishments were regularly over-shadowed by those of their husbands, Blytha's abilities were formally acknowledged.
At the end of George's term, he and Blytha settled back into their private Saanich home, now on the heritage register, where they "were known as avid gardeners."
This article was originally printed in THE BERGEN NEWS and is being reprinted with permission.