For us, September normally heralds the return to school, with its associated anticipation and anxiety. This year those feelings have reached higher levels, however the uncertainty surrounding the 2020 school year, though distressing, is not new. In the past, school arrangements were also unpredictable, particularly in rural areas. The history of Glenbow School is a typical example of how circumstances required flexible education plans.
At Glenbow, it took a frustrating six-months for the local school board to organize funding, find a location for classes, and hire a teacher. Funding problems began with red-tape and missed deadlines, and the lack of available financial resources continued to haunt the school throughout its existence.
Thanks to the loan of a community building, classes began 25 May 1911, before the school had even been built. The hall, constructed for labour meetings, had not been designed to be used on long cold winter days, so the children and teacher struggled through the frigid months.
The school board purchased the school site in December 1911. The architectural plans that had been approved more than one year earlier were finally put into action when construction began in January. Incidentally, the plans had been done by Richard P. Blakey, who became Alberta's Provincial Architect that very month; he eventually created the standardized plans for rural schools that were used across Alberta. Glenbow's little school house finally opened in April 1912 with a formal community celebration.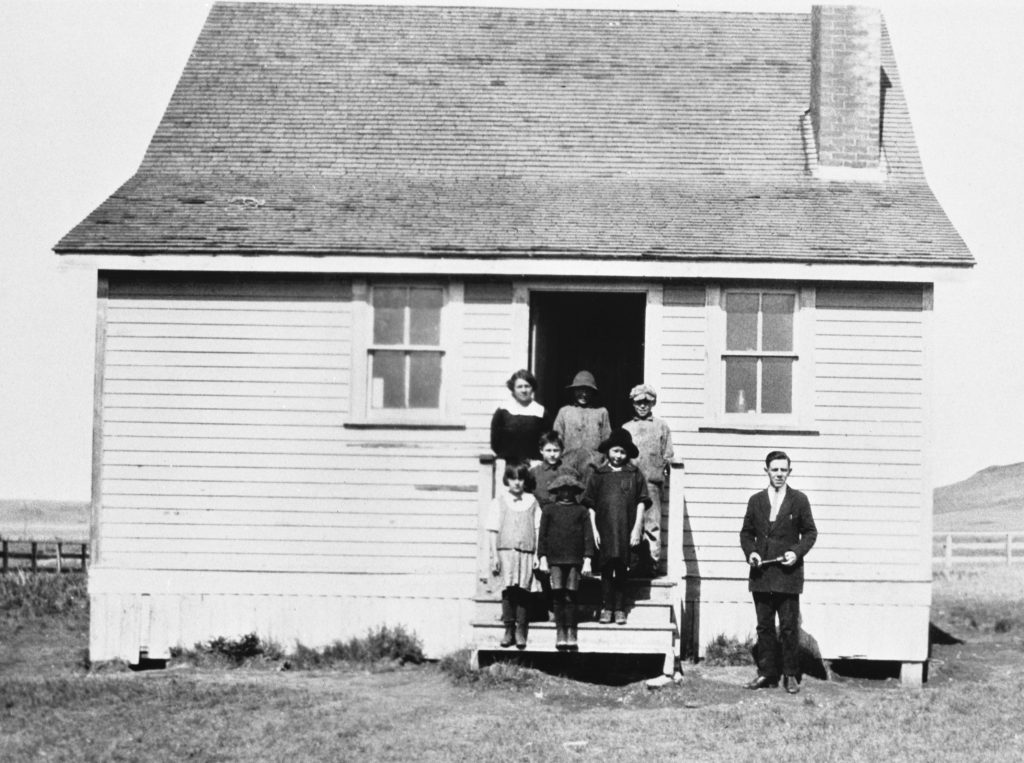 Even hiring a teacher for Glenbow turned out to be more difficult than one might expect. Unbeknownst to the local school board, Glenbow's first teacher, Miss Ada J. Johnson, wasn't even fully qualified! By October 1911, Miss Johnson had been replaced by Miss Olive Orr, and she left in November. It took two months to find another teacher: Miss Daisy Nidd, but she lasted only two weeks. In May 1912, Miss Orr was rehired with an increase in pay (to $60/month) and provision of a furnished private residence (a repurposed quarry shack). She taught until October, when the school board ran out of money, but she was again rehired in January 1913. Three months later, Miss Orr resigned permanently to take another position out-of-province.
By this point, Glenbow Quarry had shut down and the local population had plummeted. The school was closed and some of the remaining children were sent to nearby schools. In 1921, Glenbow School was reopened periodically under the supervision of a succession of teachers who were paid a daily rate: Mr. H. J. Hoffard, Mr. K. G. North, Mrs. W. Bucher, Mr. Charles Clancy, Mr. George Prieur, and Mr. Stuart Grayson. The last family left Glenbow Townsite in 1927, and the school was closed permanently in 1928.
The Glenbow school building was hauled away to be reused in another location, where it still stands, although numerous renovations have rendered it unrecognizable.
The example of Glenbow School shows that the standardization in education systems that we have grown so used to is actually a relatively recent phenomena. Glenbow also illustrates that despite having to make temporary adjustments to unexpected and difficult situations, Albertans will adapt and succeed.
This article was originally printed in THE BERGEN NEWS and is being reprinted with permission.