Health care workers are heroes: dedicated, courageous, and altruistic. We are acutely aware of their value in today's society and our dependence upon their generosity, knowledge, and skill. We can probably all name a famous medical researcher or practitioner. But we need only look down the road to find a medical professional worthy of praise. Country doctors have always provided critical care to their community. Dr. Andrew Walter Park, who worked in the Cochrane area during the early 20th century is one such example.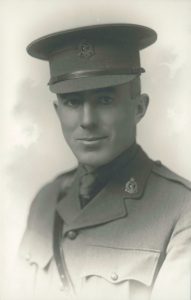 Born in Ontario and newly graduated from McGill University, Dr. Park (Walter to his friends) set up his practice in Cochrane in 1904. He had a large territory to cover, frequently riding his horse 20 miles to assist those in need. In 1911, he also became Medical Officer for the Morley Reserve, expanding his service area even farther to the west.
Medicine at the time was primitive — there were limited medical facilities, few vaccines, and no antibiotics. But Dr. Park did the best he could for his patients. He saved a young farm girl's life by removing her appendix on her family's kitchen table. He stopped a smallpox outbreak in Cochrane by quarantining the afflicted, and he successfully treated all sixteen patients. Dr. Park also encouraged the founding of Cochrane's first hospital, which consisted of a few rooms in the home of the Davies family.
Settlement in the Cochrane region rapidly expanded during Walter's first decade in Alberta. He generously credited his bride, Amelia, with doubling his practice in the year after their 1906 marriage, since she frequently accompanied him on patient visits. The charming young couple were welcomed by their neighbours and contributed to the social fabric of their community, participating in charitable, religious, and political groups. In all aspects of life, they sought to help others.
Although the Parks lived four miles from Glenbow, they were important to the district. Dr. Park delivered several babies at Glenbow. In addition, he was a first responder to accidents at the sandstone quarry and in the surrounding settlement. Sadly, he also occasionally had to ease a patient's exit from this world, when the injury was too great, or the available medicine too weak, to fend off death.
One Glenbow family was particularly affected by the Parks. In 1913, Lydia Ann Wall died a week after giving birth and her husband was left with four young children. The Parks adopted the newborn babe; little Lorna Ann Wall was christened Lorna Lydia Park and she was cherished by her adoptive family. Raised with high ideals and provided with a university education, she followed her parents' example of volunteer service.
Where there was need, Dr. Park offered aid. During WWI, he joined the Canadian Army Medical Corps. He spent most of the war in various overseas hospitals — as a patient. He suffered from a sequence of ailments throughout his service: infection, colitis, para-typhoid, pleurisy (inflammation of the tissue surrounding the lungs), and finally tuberculosis. Like many medical personnel, he had risked his own health by providing care for the sick and wounded. After the end of hostilities, he re-enlisted and served in Calgary's veterans' hospital until his retirement almost three decades later.
Throughout his life, Dr. Park helped the underprivileged and the sick. He was a board member for many charities, including the CNIB, the national council of the Red Cross, and Calgary's Grace Hospital and Rotary Club. He was also president of Calgary's Medical Association, YMCA, and Community Chest. Dr. Park's generosity and kindness had broad and significant impact.
Dr. Andrew Walter Park is a splendid example of the importance of rural doctors. They have always been at the frontline of the battle against disease and death, as well as vital contributors to their communities. Health care workers, past and present, are special people. To them we are eternally grateful.
This article was originally printed in THE BERGEN NEWS and is being reprinted with permission.