The last two months I have introduced you to the Glenbow Town and Quarry Project, being run by the Archaeological Society of Alberta – Calgary Centre. I shared my perspectives on what doing archaeology is really like and explained what we have found at the historic site where we have been working in Glenbow Ranch Provincial Park. We have been so fortunate: our public program at the Glenbow Workers' Quarters has allowed us to apply many new perspectives to our work.
An important part of our mandate is to engage the public and get them involved in Alberta Archaeology. At Glenbow, this had three unexpected benefits for us. Firstly, when we invited interested people to join our excavation program, we found that their many different backgrounds brought new insight to our work. At the dig, we regularly interacted with passers-by, including the engineers who chugged along on the nearby CPR line. I waved to each as they whistled past. In this case, the second perk for us may have been only a cheerful arm waving back to break up an otherwise quiet morning. However, there was one instance when the engineer responded to our waves and smiles by opening his window, enthusiastically leaning into the sun and using exaggerated sign language to ask, "What the heck are you guys doing over there?" His reaction totally made our day; igniting his curiosity was the reward in itself. I found myself wishing for a way to talk to him, even if it was just a great big sign proclaiming, "ARCHAEOLOGY!" We did get the chance to chat with cyclists and hikers who found us digging beside the park pathway. One of these people brought us our third bonus. She confessed that a remote relative had lived on Glenbow Ranch in the distant past. I was delighted! We discovered important information about a family we had previously been unaware of and about the source and dates of photos we had found in archives. If we had been just doing archaeology without the public input component, we would not have reaped the benefits of insight, enthusiasm, and information that we received because of our interaction with non-archaeologists.
In the process of exposing our work to the public, we also had the chance to focus new technologies on our research questions. This year we made contact with a company called Rapid3D that uses laser technology to create three-dimensional scans. On our final day in the field, two men (Ira Laughy and Peter Dobson) from the company brought their equipment to the site. The first question they addressed was to map the historic house foundation. This replaced the final aerial photo that would have been taken to show the entire excavation area. When a similar photo was taken two years ago, it required about 20 attempts to hoist a boom with a camera on the end into the correct position. This was not an easy task, as it needed a couple strong bodies for the hoisting and a truck bed for them to stand on. This year, in only an hour, Ira and Peter took numerous scans which they combined and processed to produce an amazing record of the cobble foundation. True, their equipment was costly and they needed advanced education to process the results, but Wow! What Results! They created a data file that lets us examine the foundation from many angles, rather than just the plan view one would have from a photograph. But they were capable of even greater wonders!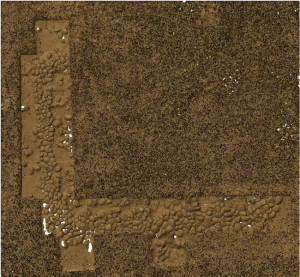 Excavated Foundation Scan
Five years ago, my colleague, Brian Vivian, discovered a sandstone boulder in the Workers' Quarters that had an engraving on it. We tried to read the inscription, but the highly eroded rock and the lichen cover, made it virtually impossible. I endeavored to do a rubbing, but the surface was too uneven. I then traced the engraving with my fingers, as one would if reading Braille, but could only make out some of the letters. We searched in vain for a solution for many long years. Then Ira and Peter arrived on the scene. Initially hesitant about the ability to decipher the writing, they made an effort.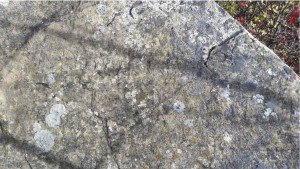 Boulder with Inscription
I should interject here with the setting. This spring we made the alarming discovery that a large portion of the cliff-line upon which this boulder was sitting, had slumped into the Bow River. It seems the flood a couple years ago had destabilized the bank and enough time had elapsed for permanent damage to occur. This left only a narrow ledge, just over a foot in width, in front of the boulder, before a drop of several feet into the crevasse of the slump block. Not to be deterred, Ira climbed to the front of the boulder and began to scan. I, with my fear of heights, or more accurately, the fear of what happens to you when you fall from heights, perched above the boulder clinging to shrubs, camera in hand.
The first attempt was unsuccessful. The scanner was exchanged for a more advanced (and expensive) model and a slightly different technique. This required placing tiny sticky target dots on the boulder face and then moving the special scanner through the air over the area of interest. Immediately Ira saw results and even I, clinging several feet above him, could see letters appearing on his computer screen! This sudden realization, that we could actually read the two names engraved on the boulder, after so many years of wondering, was almost overwhelming. That we had had to wait until the boulder had become almost inaccessible was even more ironic since I had to stifle the urge to jump up and down with excitement, lest I fall from my roost. I managed to contain myself long enough for them to complete their scans and for everyone to reach stable ground. Then Peter showed me how he could manipulate the image colours to make the carving even more distinct. The elation at being able to read the words took my breath away. The only downside was that I did not recognize either name. So now there are more questions to answer!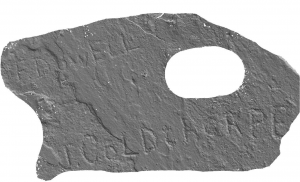 Inscription Scan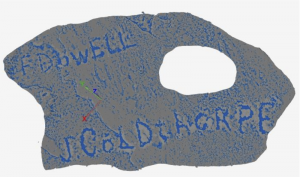 Enhanced Inscription Scan
I have had so much fun on the Glenbow Town and Quarry Project and met many generous and interesting people over the years. As this field season draws to a close, I'd like to thank all our volunteers and contributors. Their varied perspectives allowed us to see ourselves, our artifacts and archival photos, and our site more clearly. I raise my trowel in salute!
This article was originally printed in the Bergen News and is being reprinted with permission.