As the year 2015 draws to a close, so do several aspects of my life. I bid a reluctant "Adieu," to my old car and I triumphantly finished and sent off an all-consuming history project. While both of these farewells were difficult in their own way, they also triggered new and exciting challenges.
Firstly, the car. After an unsettling episode of unreliability, I was forced to wave goodbye to my well-loved old SUV. Those who know me best know that I resist change. Thus, it was a bit traumatic to search for something to replace it with. It seems the world of automotive technology has raced ahead of my needs and even vehicles a few years old have so many more gadgets than I could even imagine. (This is why I do not write Science Fiction.) Every car I sat in resembled the control capsule of a spaceship: claustrophobic  driver's seats, aerodynamically sloped windshields, and worst of all – touch screens with electronic displays. The first shopping trip did not go well. Where was I supposed to put my purse – or, for goodness' sake, my tote bag?? How would I avoid crashing into the windshield with my forehead if I was forced to stop abruptly? And — Where were all the dials and switches?? How could I possibly turn anything on or off if I was wearing mittens!?
After a few interviews with car salesmen that always began with, "I want something simple" and that ended in frustrated whispers to my darling and patient husband, I was forced to acknowledge that my dream car did not exist. Instead, we focussed on my priorities of affordability, safety and low mileage. I came to see that everything else was a bonus. Friends assure me that the backup camera display is a safety feature I can not live without. Thus, I now have a spiff new-to-me (as in used) vehicle to drive, whenever my husband isn't "testing it out" for me. Oh, and did I mention it is the loveliest shade of green?
My second event of closure at the end of 2015 was the completion of my latest family history book. Yes, after three years of research, writing, polishing and proofing, I finally managed to get it printed off and mailed out to my family. This opus had snowballed into a much bigger ball of fluff than I had initially planned and I am sure that many people thought it would never get done. I certainly had moments of doubt, particularly as I was writing up infinite endnotes.
This tome, titled A Farm of One's Own: Examples of Dutch-Catholic Immigration to the U.S. and Canada, consists of 266 pages of text including 152 figures. The figures include photos, tables, maps, scans of original historic documents and family trees. Everything is sourced, which resulted in a whopping 924 endnotes (plus the sources for the figures)! As well, there is an index of names and places. This essential supplemental material added another 85 pages of information (in a rather small font). Printed in an 8-1/2 X 11 inch format and spiral bound, the volume's weight alone is impressive.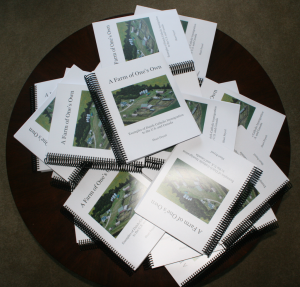 The Harvest of History
Although initially I had hoped to distribute a digital version of this book, I chose print instead because I included some documents that can not be legally copied electronically. (Wisconsin is very strict about their vital records.) Also, printing made the book available to people who do not have a computer, as is the case with several of my family elders. However, this meant I had to ask interested people to pay for the costs of printing and shipping, since I could not afford to send a free copy to everyone. In the end, I printed 20 copies and am very pleased with how it turned out.
As a goal-oriented person, I am proud that I managed to finish this monumental (self-imposed) enterprise. However, I must acknowledge that, in this case at least, the process was the reward. The best part was it gave me an excuse to get in touch with distant cousins and revered aunties and uncles that I would not normally call up on the phone. Aside from my own family history, I learned a lot through this experience: world and local histories, computer software intricacies, book layout techniques, and some of the more tricky rules of grammar. Not that everything was fun to master; there were the copyright and fair use policies to satisfy and the foibles of Canada Post to contend with. I also realized that perfection is an unattainable goal, since despite several rounds of proofing, I spotted a typo just as I was about to slide the finished books into their envelopes.
This project culminated in a frenzy of activity as I struggled to meet my holiday deadline and beat the inevitable New Year postage increase. Once the books were sent off with their little notes of thanks, I came up for air and looked around me. I discovered that while I had been focussed on concluding this giant endeavor, a bunch of smaller tasks had piled up. My office has stacks of filing, mending, ironing, and supplies for various reupholstery schemes, like the footstool I'm creating or the chairs hidden in the basement (shh – don't tell my husband). Which will be my next adventure?
So, as the old year wanes, whether you find yourself waving goodbye to something well-loved or celebrating an achievement, relish the positive in the experience. As the New Year dawns, look forward to fresh challenges. Maybe while I decide which chair to update, I'll go sit in my new SUV. I'm told I can even change the colour of the ambient lighting, but first, I need to figure out how to turn on the windshield wipers…
 This article was originally printed in the BERGEN NEWS and is being reprinted with permission.