I remember my dad reverently stating that his older cousin, Harry Boyle, was a "World War Two Flying Ace." Unfortunately, he couldn't tell me any more about him. Over the years, as more information became available online, I have gathered a few details. Government files, shared publications and stories, and the intentional kindness of strangers have helped me on my quest. Here is his story.
Harry Vern Boyle was the first child and only son of his parents and was named after his paternal grandfather. He was born in Saskatoon, Saskatchewan and grew up on a farm in the nearby Grandora District. Always interested in aviation, he spent his childhood working on engines, building model aircraft and reading whatever he could find. After he finished high school, he began studying to be a teacher. When he was 19 years old, war broke out and he saw his chance to take flight.
Harry filled out the Attestation Papers for the Royal Canadian Air Force in March 1940 and officially volunteered in Saskatoon, in June, a month before his twentieth birthday. When he entered the Air Force, he had only fifteen minutes of flying experience — as a passenger. (Though how he managed that, I can only guess, perhaps at the local summer exhibition?) His training reports indicate that although he was "[k]een and anxious to give his best at all times," his grades were not spectacular. His intake papers show he had "quite pleasing personality and manners." His initial commander crossed out the instructor's notation, "Very nice boy" and marked it "irrelevant."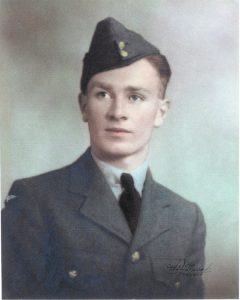 Harry Boyle in training in Toronto.
Harry passed from one level to the next, training at Toronto, Prince Albert, and Camp Borden Ontario. He earned his Flying Badge in January 1941 and was sent overseas the next month. By April of 1942, he was with the 111 Squadron, Middle East Command. Aircraft were shipped from the United Kingdom to the port of Takoradi, Gold Coast, Ghana for assembly and then taken to Egypt on the West African Reinforcement Route. Harry ferried these assembled Hurricanes across Africa to be used in the North African and Mediterranean theatres of war. In the three years this harbour was used, 5,200 aircraft were assembled and flown out of it.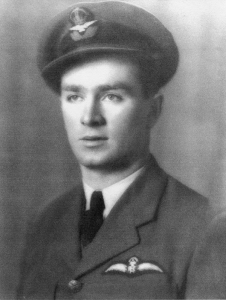 Harry Vern Boyle
Harry became known for his daring exploits. Bill McRae's story, "Harry Boyle's Tango over Takoradi" records a stunt where Harry pushed his Hurricane to the limit by intentionally spiralling down through a 20,000 foot cumulus cloud. McRae surmises, "somewhere in his wild four-mile ride down the centre of the cloud, Harry probably recovered from the spin only to enter a spiral dive." Exiting the cloud at "extremely high speed" just above the water, he likely "[pulled] out violently, probably blacking out in the process." The airplane landing gear was severely damaged by shear, as was one of the wing attachments. He managed to make a safe belly landing, and lit out running as soon as he could, away from the damaged plane to safety!
Family legends record him flying under bridges and also landing on a highway, reputedly to pick up a pretty girl! He was charismatic and good looking, standing 5'10" at 135 lbs, with brown hair and blue eyes. He was idolized by his young relatives, who were additionally fascinated by his pet monkey!
During his time at Takoradi, Harry was promoted to Pilot Officer. He returned to the United Kingdom in April of 1943 and to Canada in July. He was stationed at the Operational Training Unit at Bagotville, Quebec, where he was likely a Hurricane instructor.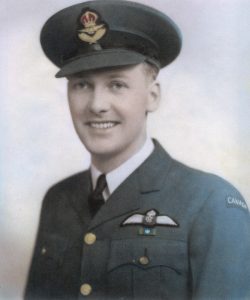 Pilot Officer Harry Vern Boyle, 1944, wearing his Canadian Volunteer Service Medal (awarded 15 Jan 1944) with the silver maple leaf for overseas service.
Eventually fun-loving Harry met the girl of his dreams; she was an usher at the Roxy movie theatre, back home in Saskatoon. He fell in love and in September 1943 married the lovely Lenore Irwin at Bagotville. Their time together was short. Five months later, he made out a new will, leaving everything to his bride, just before he left Canada with his new assignment. He became part of 403 "Wolf" Squadron and his job was to fly Spitfires in the Battle of Normandy. For five months he lived the squadron motto "Stalk and Strike". Then, on August 17, 1944, while attacking a convoy near Trun, France his luck ran out. After four years of service in the RCAF, he was reported missing in action and presumed dead. He was 24 years old.
Thanks to the generosity of a woman I never met, I was able to see the manifestation of the respect he is shown in the country where he died. Emilie Iggiotti is a French-born photographer who now resides in Canada. She chose to commemorate his grave with beautiful photos that she posted on her blog. His grave is the only war grave memorialized in the small cemetery at Castillon-en-Auge, France. He lies alone, without his family or his comrades. But he is not without love. Fresh flowers grow at his well-tended grave. A sign reads (in French), "We remember that in 1944 Flying Officer H.V. Boyle Pilot Royal Canadian Air Force died [here] for our FREEDOM."
Harry Boyle, the "very nice boy," endured years of war in the dangerous role of fighter pilot. Thanks to a kind-hearted young woman born decades after his death, his family thousands of miles away could see his resting place and find comfort in its peacefulness. The people who care for his earthy remains proclaim his relevance as a "liberator." His is only one of the thousands of stories of Canadian war heroes. This month, remember their bravery and their sacrifice.
This article was originally printed in the BERGEN NEWS and is being reprinted with permission.